Recollections by Meadows Valley Settlers and Their Families
The following information was collected and originally produced by Meadows Valley High School's 1945 Journalism Class taught by Bessie Baker.  The 42 page document is typed on buff colored 8 1/2 x 14 inch size paper. It has no title.  At an unknown date, the document was donated to the Adams County Historical Society to place in their archives.
Presented here are the re-typed words and artwork taken from the original document. No punctuation, words, sentence structure, spelling or tense have been changed from the original document.  The font used for page numbers and some headlines represent what was handwritten information.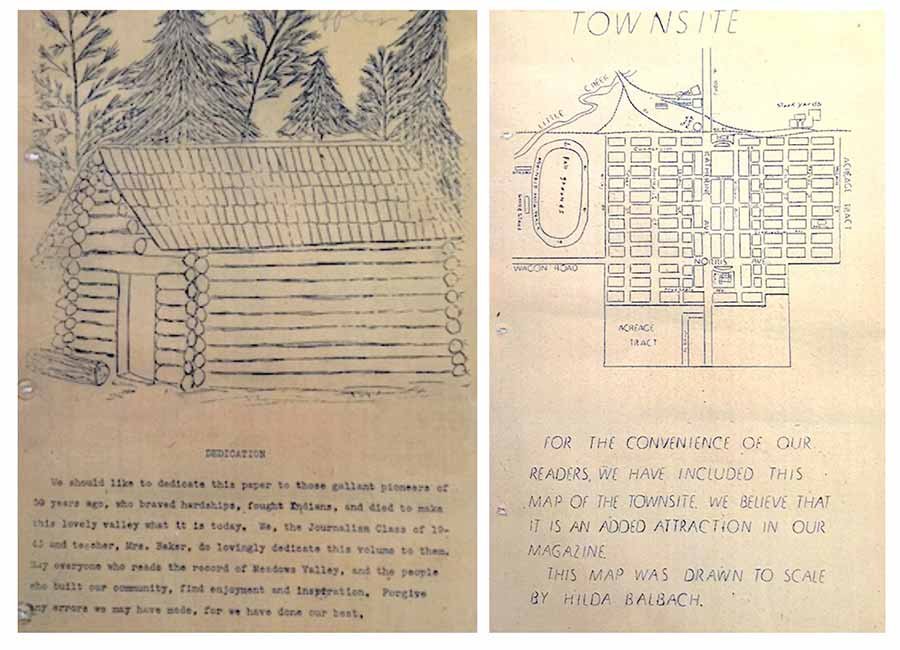 INTERVIEW
Families: Interviews with C.J. Mitchel, Fred Clark, Mrs. Chester Irwin/Yoakum Family, Edward Osborn, Walter White, George McMahan, Freeman Family, Mrs. Caroline Campbell, Richard Balbach
HISTORY OF CHURCHES IN MEADOWS VALLEY
SCHOOLS IN MEADOWS VALLEY
CATTLE RAISING INDUSTRY OF MEADOWS VALLEY
ELECTRICITY
THE NORTH AND SOUTH HIGHWAY
THE COMING OF THE RAILROAD
FARMS
ASSOCIATIONS
SOCIAL LIFE OF "OLD TIMERS"
LUMBERING INDUSTRY IN M. V.
EXPERIENCE OF AN EARLY SETTLER
Katherine Kline (Mrs. Osborn Clay)
TAKEN FROM THE MEADOWS EAGLE, THURSDAY, DECEMBER 28, 1911
Progress of New Meadows
BUSINESS DISTRICT OF NEW MEADOWS
PACKER JOHN CABIN